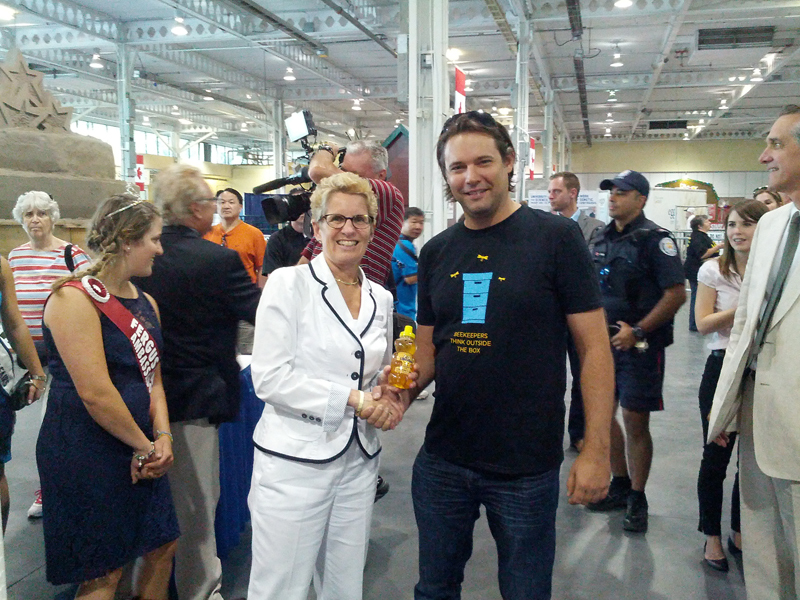 We just wrapped up our 8th year at the Canadian National Exhibition in Toronto and are now preparing for the Western Fair in London Ontario! It has been an action packed 18 days and the bee booth was buzzing! A huge THANK-YOU to everyone who came out to talk about bees and support local beekeepers!
Below is a slideshow with some photo highlights from our Facebook page. These highlights included a visit from Ontario Premier Kathleen Wynne who dropped by and briefly discussed the problem of neonicotinoid bee poisoning. We let her know that there are only 230 commercial beekeepers left in Ontario and many of us have been hit hard by colony deaths from both acute and chronic neonicotinoid pesticide poisonings. We need our government's help to save bees and protect the safety of our food and water from the corporate interests of Big Chem!
We also went on a little scavenger hunt to find "bees" throughout the Fair and were blown away by the beauty, detail and fragility of David Ducharme's "Bee-Cause" sand sculpture!
The question that we were most asked was "What can I do to help save bees?"
Answer:
Sign the Ontario Beekeepers' Association petition to ban bee-killing pesticides
Plant bee-friendly plants in your garden, balcony, deck, roof-top, and ditches
Support local beekeepers by buying local honey and candles
Learn and educate others about the food you eat, how it is produced and where it comes from
Bee the change, bee green, beehive yourself!


Again, a huge THANK-YOU to all who came out to support us and to Dan, Kate, Clare, Maria, Ben, Rebecca, Sofia and Wylie for all of your help in the booth!!